By: William R. Boyd, Jr.



The Tri-Cities (Burbank, Glendale and Pasadena) office market returned to an 18.4% vacancy at the beginning of the second quarter of 2013 which was the vacancy in the market as of one year ago. The Tri-Cities market had achieved a vacancy of 15.9% (within the total 23.2 million square feet) just three months ago.

The increase in the market's vacancy was largely attributable to Disney's leaving Burbank's 3900 West Alameda building which added over 450,000 vacant square feet to that city's available office space. The landlord, BlackRock, Inc., has now placed that building up for sale.

According to information published in the Los Angeles Business Journal, the corridor experienced a net loss (vacancy) of approximately 590,000 square feet that was vacated through the 2013 first quarter compared to a net absorption (leasing) of nearly 380,000 square feet in the fourth quarter of 2012.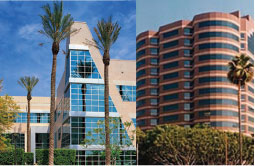 Glendale and Pasadena experienced vacancies of approximately 46,000 and 70,000 square feet, respectively, during the first quarter of 2013. Burbank's negative absorption thus far in 2013 caused that city's vacancy to jump to 20.2% of the city's 7.6 million square feet of office space. This current Burbank office space vacancy is the highest ever experienced in the past 35 years.

The Pasadena office market performed the best of the three cities over the past year as its 233,000 square feet of absorption in the fourth quarter of 2012 helped reduce that city's vacancy to 14.7% currently from its 16.9% vacancy one year ago despite its first quarter 2013 negative absorption. Glendale's vacancy also improved to 22% currently from 23.5% last year at this time.

Most observers are cautiously optimistic that Burbank will be able to lease the amount of added vacant space on the market within the next two years. "Burbank's media district experienced single digit vacancy for many years and we're optimistic that the entertainment industry's historic appetite for office space will continue," said Linda P. Lee, a Senior Managing Director of the Glendale office of the Charles Dunn Company. She cited another Burbank building, at 2411 West Olive, that now has two floors of office space available at a quoted rent of $2.90 per rentable square foot per month which is below the city's quoted average.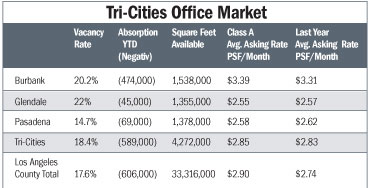 The Burbank and Pasadena quoted rental rates are averaging $3.39 and $2.58, respectively. Glendale's quoted average rental rate for Class A office space has dropped only two cents over the past year from $2.57 per square foot per month in April of 2012 on a fully serviced basis to $2.55 per square foot today. The 701 North Brand office tower in Glendale has recently welcomed six new tenants to that building over the past year and is quoting a rent of $2.25 per rentable square foot per month.

The average asking rental rate for Class A office space in the Tri-Cities office market was at $2.85 per rentable square foot per month on a fully serviced basis as of the end of the first quarter 2013 which is up slightly from the $2.83 per rentable square foot per month last year at this time.

The amount of Tri-Cities office space vacancy, 4.2 million square feet within its 23.1 million square feet total, and slow leasing activity throughout the Tri-Cities market, is creating outstanding office space opportunities for those few tenants in the market seeking office space or those tenants looking to renew their current lease obligation.