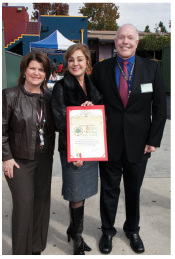 Dreier's Nursing Care Center acknowledging Dreier's 65 years of service to the community as a third-generation, family owned business. Dreier's celebrated the 65th Anniversary along with Health Fair offering Free Health Screenings and free flu shots available for seniors. The program recognized the longest serving postman, policeman and fireman in Glendale.
Joining in the celebration at Dreier's 65th Anniversary and Health Fair from the left: Denise Miller, Director Live Well Senior Program, GAMC; Rita Hadjimanoukia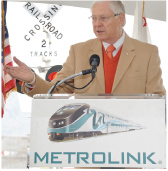 n, Field Deputy for 5h District Supervisor Michael Anntonovich; John Haedrich, Administrator Dreier's Nursing Care Center

Supervisor Michael D. Antonovich, Chairman of the MTA and Metrolink Director, joined community leaders and residents at the groundbreaking of Metrolink's new Glendale Corridor project which will improve four crossings in the cities of Glendale and Los Angeles. "Our first priority is safety," said Antonovich. "The 2008 Chatsworth tragedy and the 2005 Glendale crash strengthen our resolve to prevent these types of accidents from ever happening again. These improvements are part of a larger effort to upgrade our Metrolink system throughout southern California -- especially on the Antelope Valley line from Lancaster to Los Angeles Union Station." The four highlighted projects along the "Glendale Corridor" are at Sonora and Grandview avenues in Glendale, along with crossings at Chevy Chase Drive and Broadway/Brazil Street, bordering the cities of Glendale and Los Angeles.



Burbank names Interim City Manager, search will continue for permanent replacement
The City of Burbank has reached a tentative agreement with Ken Pulskamp to serve as Interim City Manager after the departure of Manager Mike Flad who is leaving to take the City Manager job for the City of South Gate. Pulskamp will assume the interim position following his upcoming retirement on November 30, 2012 from the City of Santa Clarita. Ken has 35 years in city management. Mr. Pulskamp will start on December 3, 2012. Until that time, the Burbank City Council has appointed Fire Chief Ray Krakowski to be the acting City Manager.


John Kinney has been appointed Director of Emergency Preparedness, responsible for developing, administering and coordinating emergency management for all airports within the Los Angeles World Airports (LAWA) system. "He will be working with Deputy Executive Director Jacqueline Yaft in performing these duties and closely with staff as well as other city agencies," LAWA Executive Director Gina Marie Lindsey said when announcing Kinney's appointment. "Truly effective emergency preparedness involves everyone." Los Angeles World Airports is a proprietary department of the City of Los Angeles that owns and operates three Southern California airports: Los Angeles International, LA/Ontario International and Van Nuys general aviation.

New Horizons' Chief Executive Officer, Cynthia Sewell (Kawa) received the Distinguished Alumna College of Arts and Letters Award in a ceremony held at the California State University, Los Angeles 38th Annual Alumni Awards Gala on campus. "The Alumni Awards Gala gives the University the opportunity to celebrate and salute the accomplishments of all of its graduates who make important contributions to their families, their professions and their entire communities," said Carlos Illingworth, Jr., CSULA President of the Alumni Association. Ms. Sewell was honored for her many professional accomplishments; most noted being her 35 years of service to individuals with developmental disabilities. Ms. Sewell has been recognized many times for her leadership and professional acumen, most recently by Business Life Magazine, which honored her with its 2011 Women Achievers Award. She is also a member of the Board of Directors of the Valley Industry and Commerce Association (VICA) and serves on its Government Affairs Committee. For more information on New Horizons visit www.newhorizons-sfv.org.

The Glendale Fire Department welcomed Brandy Villanueva to the Glendale fire family. Brandy has worked within the Emergency Management field for seven years. Throughout that time period, she has developed and managed the Beach Cities Health District Medical Reserve Corps, implemented emergency operation and business continuity plans, and educated the community on the importance of emergency preparedness. Brandy has also managed a Los Angeles County H1N1 Point of Dispensing Clinic. Brandy's assignments will be Emergency Service Coordinator, Public Information Officer and our Public Education Coordinator.

Dr. Joan Bissell, Ed.D. Director, who directs Teacher Education and Public School Programs in the Office of the Chancellor at California State University, was honored recently as one of a handful of California's "Leading Women in STEM" for her achievements in advancing STEM Teacher Pathways in California and for her professional achievements in the STEM (Science, Technology, Engineering, Mathematics) arena. The California STEM Summit is a statewide leadership convening of business, government, education, nonprofit and philanthropic luminaries to spark change in STEM education and workforce development and launch new STEM education initiatives. For information visit: California STEM Summit 2012 (www.castemsummit.com).

Manhattan Bancorp Completes Bank Acquisition Manhattan Bancorp announced that it completed its stock acquisition of Professional Business Bank. The deal, first announced in November, merges two banks with combined assets of more than $406 million. Manhattan Bancorp, the El Segundo parent of Bank of Manhattan, is the surviving holding company, with shareholders of Pasadena's CGB Holdings, Professional Business Bank's holding company, owning more than half of the combined entity. Irvine investment banker and consultant Ed Carpenter's Carpenter & Co. had a significant stake in both companies. Terry Robinson, president and chief executive of Bank of Manhattan, becomes chief executive of the new bank, which keeps the Manhattan name. John Nerland, president and chief banking officer of PBB, becomes president. Bank of Manhattan now has full-service branches in Pasadena, Glendale, Montebello, El Segundo and Manhattan Beach

AmericanWest Bank Completes Acquisition of Inland Bank
Inland Community Bank is now AmericanWest Bank with the successful completion of the acquisition that was first announced July 19, 2012. AmericanWest Bank's holding company announced that it completed the acquisition of ICB Financial (OTC: ICBN), the parent company of Inland Community Bank, which was based in Ontario, Calif. Immediately following the close, the Inland Community Bank was merged into, and became part of, AmericanWest Bank. The acquisition adds five locations to AmericanWest Bank's footprint: Ontario, Duarte, Rialto, Pasadena, and Los Angeles, bringing the Bank's total number of branches to 80. For additional information visit www.awbank.net