By: Rebecca Mikkelsen



Higher Education -- Adopting New Strategies for Success

"Doing more with less" has become a mantra not just for our region's businesses, but also its colleges and universities. How are institutions of higher learning in the San Fernando and San Gabriel valleys dealing with the impact of state budget cuts? What strategies are they using to help their graduates land jobs, in an economy that's still passing out pink slips? And how are they partnering with the community to create success for both students and businesses?

We put these questions to the leaders of Woodbury University, California Lutheran University, University of La Verne and Glendale Community College. The responses are enlightening and encouraging.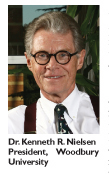 Woodbury University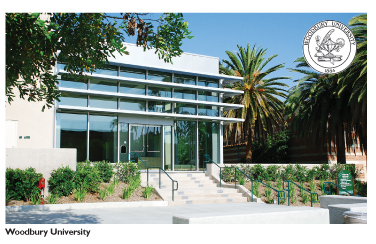 Dr. Kenneth R. Nielsen
President, Woodbury University
Universities face many uncertainties during the financial crisis. However, several truths have become evident. Most important is the belief that education is the most powerful economic and social tool of our time and for our citizens.

Woodbury University is a private school not dependent upon direct government funding and we are not limiting our enrollment. Students graduate on time and have the benefit of practical professors in classes that average 15 classmates. Today, 94% of our students receive some form of financial aid. Woodbury's innovative graduate and undergraduate programs in architecture, design, business, and arts have given our graduates the tools they need to flourish both personally and professionally.

Since our founding in 1884, our focus has been to provide an education which ensures our students can enter the workforce immediately. We have been successful in educating young people who are the first in their family to go to college. A sound educational foundation has changed the lives of our students and their families in ways in which we benefit the entire community.

Woodbury has partnered with many community groups including the community colleges, businesses and government agencies to provide funding and job opportunities for our graduates.

California Lutheran University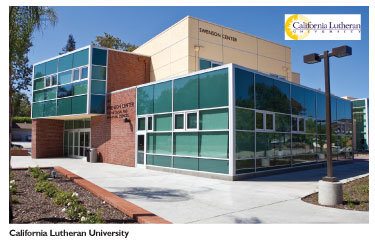 Dr. Chris Kimball
President, California Lutheran University
California Lutheran University is fortunate to not be affected by the state budget crisis. Our challenge is serving the increasing number of students who cannot attend public universities because of enrollment cuts and whose resources have plummeted during the recession.

We have increased financial aid and currently distribute $25 million a year in institutional scholarships and grants. We also started a 4-to-Finish program that guarantees students will graduate in four years or CLU will pick up the tab for any remaining classes.

Before students attend their first class, the director of our Career Services Center contacts them to find out their interests and immediately begins sending them information about internships. As graduation nears, they get information about job opportunities. Our graduate students and alumni also receive emails about jobs in their fields.

Within a year of graduating, more than 98 percent of our traditional undergraduates have started a full-time job or are in graduate school.

Much of the success we have is a result of the service we provide to the more than 10,000 employers with whom we work. Employers get results quickly from CLU so they keep coming back. Our students, and the community, come out ahead.

University of La Verne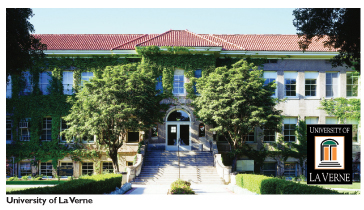 Dr. Devorah A. Lieberman
President, University of La Verne

Higher education, a resource often taken for granted, is an essential asset in difficult economic times. It is the engine boosting the economy with the highly educated work force needed to enhance business and create innovation while also graduating confident and committed individuals.

The University of La Verne is meeting this vital need. Our diverse, nurturing environment features a faculty and staff who engage students in acquiring the skills, knowledge and community-based opportunities to be successful in their chosen careers. The curriculum is grounded in the key tenets of our mission statement: lifelong learning, inclusivity, moral judgment and civic engagement.

La Verne provides comprehensive training for traditional and non-traditional aged students at the graduate and undergraduate levels in professional programs and the liberal arts. They can study at the main campus, seven regional campuses, two military bases or in cooperative programs with businesses throughout the region.

We are launching a comprehensive new component to our curriculum: The La Verne Experience. This initiative will afford all graduates – regardless of age, area of study, degree earned or campus attended – common experiences by connecting theory to practice, interdisciplinary learning, courses to community engagement and courses to community needs. The University's approach to education benefits every graduating student, our community partners and the entire region.

Glendale Community College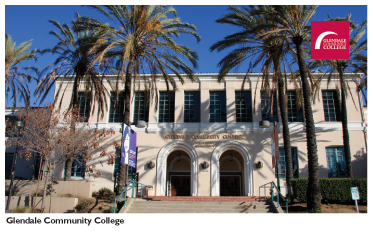 Dr. Dawn Lindsay
President, Glendale Community College

The current state of the California economy has directly, and significantly, impacted public education as described in the California Master Plan. The biggest challenge Glendale Community College faces is keeping the impact of state fiscal cuts as far away from our students, and the classroom, as possible. We are strategically scheduling our general education, transfer, career technology and foundational skills course offerings to maximize accessibility. We realize these are classes students need to attain their educational and employment goals.

Students planning to attend community college should follow all timelines and apply early in order to facilitate the earliest registration date. It is important to examine all personal and professional commitments in order to develop a class schedule that will lead to academic success. Glendale College has academic counselors, and a strong student services support program, to assist students maximize their efforts and attain necessary support.

Glendale College has many successful community partnerships opening doors to prospective employers. Our partnerships with Glendale Water and Power and the Verdugo Fire Academy are just two examples of ways Glendale College collaborates with local companies. Career Technology Educational Programs such as Culinary Arts, Hospitality Management, Machining, Business and Animation provide both new and returning students the opportunity to attain new job skills for career advancement or transition.

Glendale Community College has much to offer. We appreciate the trust and support we receive from the communities we serve.