By: Maxine Nelson



Students in the California Lutheran University MBA program are given an option for their capstone class: Take a course on strategic management or opt to enroll in Consulting to Business. If they choose the latter, they get hands-on experience applying the skills they gained from the master's program to real-life situations.

"It's like being thrown a curve," described MBA student Amanda Schaub, "and not being in a textbook anymore."

In teams of three, students offer free consulting services to a variety of local companies seeking their help. The many businesses they have worked with include distribution, music and landscaping companies and even a dentist. They also have offered their services to nonprofit organizations such as the Agoura Hills Community Center and the Ventura County Museum of History and Art.

"Nonprofits still need a profit to provide maximum service," explained business professor Ron Hagler. "There is not any difference as far as business management goes."

The students choose which companies to assist and spend hours researching the industry of their soon-to-be clients. They then meet with representatives from the businesses and discuss what needs to be done.

The students offer an outsider's perspective. Sometimes when working in a business, people "are immersed in the environment and don't see the problems prevalent to the outside," explained Justin Legere, a Camarillo resident who took the course in spring.

"Students offer a fresh perspective on technology or an updated way to prepare financials," said Schaub.

The goal of the class, Hagler explained, is for the students to communicate to company management that their suggestions are good for them.

This was one of the biggest challenges for Schaub. "You think that you will do one thing and follow what [the companies] are asking for… but you dig deeper and find there are other things that they really have issues with," she said.

Situations like this offer students opportunities to identify the real problems. Once the problems are established, Legere explained, students go back and try to find the root cause. "You can see the symptoms, but you need to find the cause," Legere said.

Students spend numerous hours working with their companies. Schaub's team spent more than 130 hours and Legere estimates that he offered $6,000 worth of consulting services.

Hagler, who spent many years as a consultant, mentors the students as they progress. The students also discuss challenges with fellow classmates.

Vice President David Burtch of AmeriTel Inc., a leading voice and data service provider in Southern California, said students' suggestions had a big impact on the company.

"They helped us manage the company more effectively and helped us communicate with the client more effectively. All those things factor in," said Burtch. After the Northridge company worked with the CLU students, it was named Technology Company of the year by the Valley Industry and Commerce Association in 2008.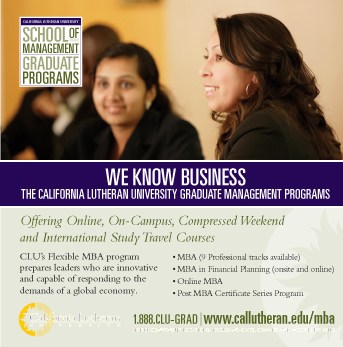 One of the unexpected outcomes Burtch experienced stemmed from the hours of research CLU students conducted on software specific to his industry that his business had used for years. "They showed us some capabilities of our software that we weren't aware of," he said. "They found solutions within the software we had."

The biggest success story that has come out of the class is a team that helped a Moorpark company expand from a $400,000 business to a $4 million business in four years.

In addition to helping local companies to improve, Consulting to Business offers students a unique opportunity to practice what they have learned. Legere said he came away with confidence and the ability to observe and analyze small businesses.

Hagler said the program teaches his students the value of critical thinking. "They think with real work, real problems, real people," he said.

For Schaub, the experience was invaluable. "I feel like I've picked up additional leadership skills and organizational skills and consulting experience you just can't get anywhere else," she insisted.