By: Linda Belew LaZar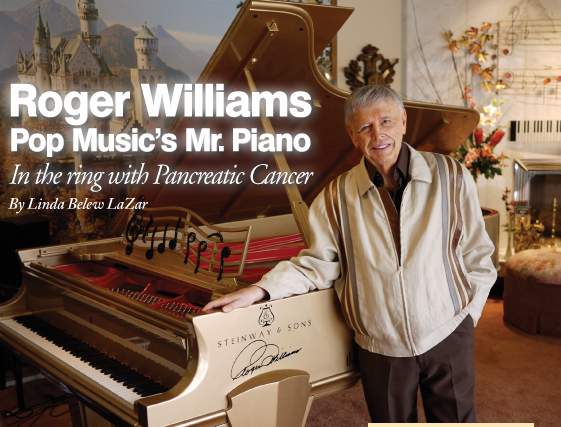 In the ring with Pancreatic Cancer

"Life is a struggle," Roger Williams expressed enthusiastically, embracing the opportunity to extol the value of "struggle." At age 86, Williams exudes the energy of a teenager and the swagger of a sexy pirate, "We're born with all this fight in us, and the minute we stop struggling, we start dying," he said.

Roger Williams is an American icon. David Letterman's musical director Paul Shaffer put it well during Williams' 2003 performance at Carnegie Hall's 150th Anniversary, "The cat has chops." Yes, the "cat" does have chops, however, that is an understatement. Recently, the world-renowned Juilliard-trained pianist began the struggle of his life. Diagnosed with cancer of the pancreas, Williams summoned his prize-winning boxer attitude, accepted the challenge like a true WWII Navy warrior, and vowed to win. "If we really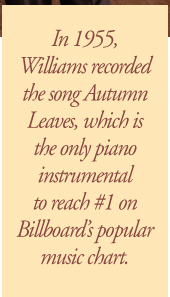 want to do something in life, it's in us." Williams spoke fervently about the many people he's met in his life, "I've asked billionaires what their happiest times were, and every one of them told me the happiest days were when they were struggling their way from the bottom to success. They look back and appreciate the days when they stood side-by-side with their wives, sweating it out together, struggling to achieve their goals."

Williams, or "Rog" as his friends call him, looks back on his own early days of struggle. Billboard Magazine touted Williams as, "the greatest selling pianist in history." So far in his career, Williams has released 117 albums, 21 of which reached gold and platinum. An American "pop" pianist, Williams gained national prominence in 1955 with his recording of Autumn Leaves, which still stands as the greatest selling piano recording of all time. Williams' music offers a blend of the classics, Gershwin, Duke Ellington, and contemporary pop composers from blues and jazz. He regularly headlines in Las Vegas and was the first pianist to earn a star on the Hollywood Walk of Fame. He has played for nine U.S. presidents, and in 2010 was inducted into the Hit Parade Hall of Fame. Williams is the only artist to receive the Steinway Lifetime Achievement Award, and holds the honor of being the only artist with a Steinway piano named after him (pictured here majestically in his Encino, California home).

Williams was born Louis Weertz on October 1, 1924 in Omaha, Nebraska and grew up in Des Moines, Iowa. His father was a Lutheran minister (and boxing enthusiast) and his mother was a music teacher. He began playing the piano at age three, but began focusing on boxing at his father's request. In high school, he returned to music after sustaining numerous boxing injuries and breaking his nose several times.

Williams majored in piano at Drake University in Des Moines, but left college and entered the United States Navy, serving in World War II. In boot camp, he won a boxing award and was voted "top man" by 300 Navy colleagues who honored him as their Man of Warsman. "Those were tough guys in the Navy. They had all kinds of tattoos, which was a really big thing at that time. But they voted for me. And I still have the certificate. It means so much."

While in the Navy, he earned a bachelor's degree in engineering from Idaho State College (now Idaho State University) in 1950, then re-enrolled at Drake, where he earned his master's degree. He then moved to New York City to study at the Juilliard School of Music where he studied jazz piano under Teddy Wilson. While there, Williams (Weertz) agreed to play as the accompanist for a Juilliard student scheduled to sing on Arthur Godfrey's Talent Scouts. But when the singer failed to show up, Weertz went on stage as a piano soloist and won the night's contest. David Kapp, founder of Kapp Records, was so impressed that he signed him to a record deal and changed his name to Roger Williams (after the founder of Rhode Island).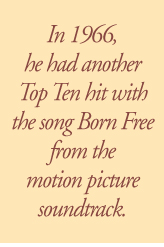 In 1955, Williams recorded the song Autumn Leaves, which is the only piano instrumental to reach #1 on Billboard's popular music chart. In 1966, he had another Top Ten hit with the song Born Free from the motion picture soundtrack. Some of his other hits include Near You, Till, The Impossible Dream, Yellow Bird, Maria, and The Theme From Somewhere In Time.

At age 86, Williams believes the greatest part of his career is still ahead of him, and feels that he's playing better than he's ever played before. He lives his life with an optimistic theme, and tirelessly practices every day, directing his struggles with discipline and commitment. Until recently, when he began chemotherapy to battle cancer, Williams jogged three miles per day, five days per week for over 60 years, "I hate every step of it. Well that's not true," he says. "I love the last step." He plans to resume jogging soon, he looks forward to the "high" it gives him after a good run.

In 1942, at age 18, Williams created a lifelong adage for himself: "Take what you want out of life, but pay for it." He says everyone, including himself, likes to get what they want the easy way. But he always knew he had to pay for what he wanted, whether through countless hours of relentless practice, physical exercise, or even eating his vegetables (which he hates). Though he'd prefer playing hooky and eating chocolate, discipline and commitment seems to be the path to his success. To remind himself, he posted a sign on his television that reads, "When you turn this on, you turn yourself off."

Williams was married twice, first to Joy Dunsmoor and later to Louise DiCarlo, both now deceased, and has three children (with Dunsmoor). He says that kids are not exposed to enough types of music, and it's missing in their lives. "It's important for children to be exposed to the classics before they grow up and miss the opportunity to acquire an appreciation of it," he says. One of his greatest challenges today is working to bring music back into the schools, and he was recently honored with the Champion of Youth award presented by Governor Arnold Schwarzenegger.

More on Roger Williams…
Business Life Magazine publishers and staff were so impressed and inspired during our interviews with Mr. Williams, we decided to feature an expanded bonus article online at our Web site: www.BusinessLife.com. We invite you to read more about the early days of pop music, growing up as a preacher's kid, family, anecdotes, personal experiences with U.S. presidents, and more. And we'll be pulling for Roger in his strong and inspirational struggle to beat pancreatic cancer. He's a boxer, and he knows how to win—the gloves are off.

To view video interviews and hear Roger Williams' music, we encourage you to visit his Web site: MrPianoToday.com.