By: Joyce M. Poxon



Longtime activity director offers insider's guide to nursing home facilities With more and more Americans in the senior citizen age bracket, the number of families in need of quality nursing home care is rising rapidly. Joyce M. Poxon's new book, Nursing Homes: Heaven or Hell? (now available through 1stBooks), offers an inside glimpse at the many nursing homes she worked for as activity director. Based on her experiences, the book details the problems in facilities and characteristics to look for when selecting a home.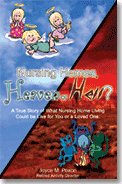 Poxon describes her extensive career as activity director and tells how she became known as one of the most successful activity directors in southern California, scheduling fun and unique programs for residents. Although her creativity often brought praise, she was confronted with difficult administrators, residents, staff and families, and she shares those experiences with readers.

Rarely do staff members write about the inner workings of nursing homes, Poxon writes. However, she offers anecdotes that inform and empower patients and family members about common problems. From dealing with doctors and nurses to understanding state surveys and requirements, Poxon presents an insider's guide to nursing home operations, staff and residents. Her accounts not only bring insight, but also provide memorable, heartwarming and sometimes shocking true stories about situations she encountered in these nursing home facilities

Poxon began her career as a volunteer. During her career, she created entire departments, hired staff and created and copyrighted activity department charting forms and calendars that continue to be used in facilities. A resident of California, she spent much of her adult life in Crown Point, Ind.

For more information, visit www.1stBooks.com.