All hospitals in California are now linked to a statewide emergency communication system that will enable them to share information quickly and securely during a disaster, Dr. Mark Horton, director of the California Department of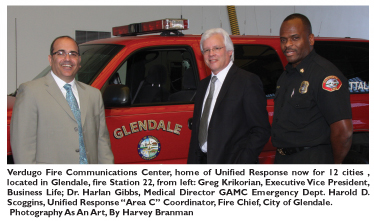 Public Health, announced recently.

"This communications partnership strengthens our ability to share emergency information between California hospitals and the California Department of Public Health," said Horton. "It will help us better prepare for disasters and save lives."

California's 435 general acute care hospitals are enrolled in the California Health Alert Network (CAHAN), the State of California's Web-based information and communications system that is available around the clock for state and local preparedness efforts. CAHAN links health and emergency response partners together to provide:

• Rapid and secure communication among state and local health agencies, hospitals and other emergency response partners;
• Dissemination of information from state authorities about likely or imminent dangers; and
• A secure collaborative environment to develop and share information for emergency preparedness planning and response.

A two-year project to enroll every California hospital in CAHAN is now complete. Nearly 33,000 emergency response partners participate in CAHAN.

C. Duane Dauner, president of the California Hospital Association, said, "In any disaster, timely communication and information is essential. CAHAN is a vehicle that allows this to happen. California hospitals are pleased to be a part of this cooperative network which will assist hospitals and the State in preparing for and responding to disasters and in other ongoing operations."

CAHAN was used by state authorities to share emergency information during last year's gas explosion in San Bruno, the H1N1 pandemic in 2009 and wildfires in Southern California in 2007 and 2003, as well as for other emergencies and regular dissemination of important emergency preparedness information. CAHAN participants receive alerts and notifications via pager, e-mail, fax and phone.

InQuicker or Fast Tract: Patients Can Set-Up Appointments for ER Care

Making an appointment for the emergency room is a growing trend among Southern California hospitals, allowing patients to male emergency room appointments online. In exchange for a fee, patients can show up at the assigned tine with the assurance they will be seen for quicker treatment of less acute illnesses. For more information visit: www.calhospital.org
For additional information contact: California Department of Public Health, (916) 440-7259 or visit: www.cdph.ca.gov/

UNIFIED RESPONSE: Strength in Numbers
It began with a Tri-City collaboration in 1979, when the cities of Burbank, Glendale and Pasadena agreed to operate as a borderless system for fire incidents dispatched by Verdugo Fire Communications Center. The success of this system later prompted the suggestion that all 12 of the cities in the local area should enter into a similar collaboration. The details were ironed out at monthly Verdugo Task Force meetings, with input and direction from the Fire Chiefs, over a period of about two years. Effective February 14, 2005, this collaboration was christened Unified Response and expanded to cover 12 cities: Alhambra, Arcadia, Burbank, Glendale, Monrovia, Monterey Park, Pasadena, San Gabriel, San Marino, Sierra Madre, South Pasadena and Montebello.

Unified Response essentially merged dozens of aid agreements between the 12 fire departments into a single automatic aid agreement. This eliminated the time-consuming element inherent in mutual aid agreements, where permission to share resources is sought and obtained before the units can be dispatched. When your house is on fire, an additional five-minute delay can mean the difference between moderate damage and a total loss. No such permission is required with an automatic aid agreement; the communications center immediately dispatches the closest available units and everyone works together to handle the crisis.
Harold Scoggins, Glendale Fire Chief is OES Region I, Area C Coordinator


Glendale Fire's Emergency Medical Services
Over 82% of Glendale Fire Department's incidents are medical in nature. When a call for medical assistance is received, an ambulance staffed with paramedics is dispatched to the location, usually accompanied by a fire engine with additional personnel.

All sworn fire personnel are trained and certified Emergency Medical Technicians, and many have received substantial additional medical training to earn the title of Paramedic. All four Glendale rescue ambulances are staffed with two paramedics at all times, which provides the citizens of Glendale with an exemplary level of medical response.

Glendale EMT's are trained in automatic external defibrillation and are certified EMT-D's, which allows rapid cardiac defibrillation to a patient when time is crucial and seconds can be the difference between life and death.

The sooner a cardiac event is treated and transported, the less the heart muscle is damaged or destroyed. To aid in our endeavor to provide the best possible service to the citizens of Glendale, we have implemented a 12-lead Electrocardiogram Program. Instead of the view of the heart provided by a normal 3-lead or 4-lead cable, we are able to take a "look" all around the heart with the 12-lead cable to better ascertain possible cardiac abnormalities. The program has been so successful that the Department of Health Services in Los Angeles County is rapidly moving toward implementing it throughout the entire county

Glendale Adventist Medical Center
The first floor of Glendale Adventist Medical Center's West Tower is dedicated to emergency services. Visible and accessible from Chevy Chase Boulevard, the Emergency Department is 60 percent larger than the original and much more accessible to patients and ambulances. Features include:

• A dedicated CT and digital X-ray room for expedited critical diagnostic testing designed with equipment that moves around the patient for greater patient ease.

• A 10-bed FastTrack area to care for less critical patients, ensuring that all patients are treated in a timely way.
• Private registration booths and a spacious lobby.
• An elevator dedicated to transport of the most critical patients to surgery or our cardiac cath labs.

GAMC is also proud to offer access to our Advanced Primary Stroke Center and STEMI Receiving Center through the Emergency Room. Our stroke and STEMI teams are always on stand-by, ready to provide comprehensive treatment options for stroke and heart attack when time is of the essence.

Access to GAMC's Chest Pain Center is also available through the ED. With heart disease as the number one killer of Americans, rapid diagnosis and treatment of chest pain is more important than ever. In response to this overwhelming need, GAMC developed the Chest Pain Center, which is specially equipped and staffed to quickly diagnose the cause of chest pain.
For additional information call 818-409-8100 or visit www.glendaleadventist.com

Olympia Medical Center Leads the Way in Patient Care
Olympia Medical Center's emergency medical care has been found to be among the top 5 percent in the nation, according to a new study released by HealthGrades, the U.S.'s leading independent health-care ratings organization.

Only 13 hospitals in the Los Angeles area were recognized for these superior patient outcomes

"This is a true testament to the great work that our physicians, practitioners and employees do every day in our emergency room," said John Calderone, the hospital's chief executive officer.

"There is no place like it in terms of dynamics, demands, expectations, and even drama," Calderone said. "For our emergency department to receive this level of recognition for their accomplishments is truly wonderful to see because they certainly deserve it."

At the same time Olympia Medical Center and Baxano, Inc., announced another successful use of an advancement in surgical technology for lower back pain. Over 300,000 people per year in the US have surgery for the symptoms of degenerative arthritis of the spine. Symptoms include pain, numbness, tingling or weakness in your back and legs caused by bone and other tissue pressing on the spinal nerves. Olympia Medical Center is the first hospital in Los Angeles to offer the iO-Flex System as part of lumbar decompression surgery to relieve the pain of degenerative arthritis of the spine.

Olympia Medical Center is a physician owned hospital located in the heart of Los Angeles and has been providing medical care to its community since 1948.
To learn more about Olympia Medical Center, visit www.olympiamc.com

Providence Health & Services Emergency Departments Expand Services to Meet Growing Needs
Red lights and sirens, crowded waiting rooms, doctors and nurses working quickly among patients.
Hospital emergency departments have grown busier in recent years with the closures of several area hospitals and the increase in uninsured patients who have no source of primary health care.

To meet the growing need, Providence Saint Joseph Medical Center in Burbank, Providence Tarzana Medical Center and Providence Holy Cross Medical Center in Mission Hills have established "fast-track" services within their emergency departments to treat patients with sore throats, ear aches and other ailments that require medical care but are not true emergencies.

"In addition to receiving excellent medical care, our department recognizes that patients also value being seen in a timely manner," said Angelique Campen, M.D., assistant medical director of the Providence Saint Joseph Emergency Department. "To achieve this, we created a fast-track system to treat the less acute patients in a timely fashion just as we treat the patients with more life-threatening illnesses."

To help encourage healthier communities, Providence has several outreach programs that provide free or low-cost preventive health care and early diagnostics. The goal is to treat conditions before they escalate to emergencies.

Providence also provides numerous outpatient services throughout the Valley. The new Roy and Patricia Disney Family Cancer Center at Providence Saint Joseph provides state-of-the-art cancer care and an integrative medicine program; Providence Tarzana operates a new outpatient rehabilitation center as well as cardiac rehabilitation and diabetes treatment; and Providence Holy Cross has expanded into surrounding communities with its Santa Clarita and Porter Ranch outpatient centers.
For information about Providence, call 1-888-HEALING (432-5464) or log onto providence.org.

Valley Presbyterian Hospital (VPH) Emergency Services
Valley Presbyterian Hospital is a STEMI (ST segment Elevation Myocardial Infarction) Receiving Center for heart attack patients brought into the Emergency Department by paramedics. The STEMI Receiving Center designation means that the Emergency Department, Cardiac Cath Lab, cardiologists on staff, and Cardiac Surgery Services all work together effectively to preserve a patient's heart muscle within 90 minutes following the onset of chest pain.

Emergency Department at VPH is also an Emergency Department Approved for Pediatrics (EDAP), which is equipped and staffed to care for children in with emergency medical needs. When paramedics respond to a child, they bring the child to the nearest EDAP facility.

VPH's Fast Track Emergency Care is designed to care for patients with urgent but not life-threatening conditions such as cuts or sports injuries, colds, fevers, and earaches. The clinical staff provides both adult and pediatric care. Patients with less serious problems are seen, treated and can be back home quickly – saving time and frustration. At the same time, Fast Track helps free up the Emergency Department to treat patients who have serious and life-threatening medical conditions.
For additional information call 818-782-6600 or visit www.valleypres.org.